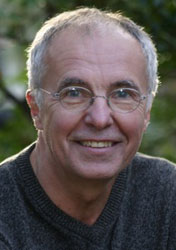 Peter Schroeder has been inspiring and motivating groups for over 30 years. Relating on a personal level, he reaches the internal switch that propels people out of the "Valley of Complacency" and onto a path of action.
Schroeder ran Schroeder's Midwest Marketing, Inc., consistently winning awards for achievement and excellence. He worked with W. W. Grainger, Abt-TV, Hyatt Hotels, and American Hotel Register. He appeared at the National Home Builders Show, The Kitchen and Bath Show, and the Hotel/Motel Show at the Javits Center in NYC.
Pete is the author of 2 books – It's Your Movie: Creating the Life You Want and First, Take Care of You: 10 Keys To Self-Care for Family Caregivers.
Born with a congenitally deformed hand, he knows about Overcoming Adversity. He knows the Importance of Attitude, and the Power of Accountability. And he knows Discipline Equals Freedom.
He speaks from his heart, injecting humor and inspiration throughout every presentation. You'll find his videos on You Tube, and his books on Amazon.com.
Pete has appeared with Cloris Leachman, Patti Page, Deepak Chopra, Marianne Williamson, Debbie Ford, and Gary Talley.
As a singer/songwriter, he has performed throughout the United States and Europe, with Bill Danoff, Mack Bailey, and Donna Lipman.
He lives to help others enjoy life, get positive, stay positive and embrace the concept that life happens for you, not to you.